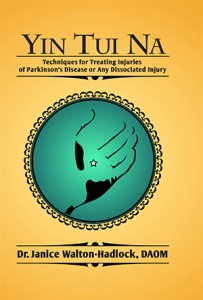 Yin Tui Na: Techniques for Treating Injuries of Parkinson's Disease or Any Dissociated Injury
Dr. Janice Hadlock, DAOM, LAc
Raja Books
Published 2012, 163 pages
Yin Tui Na is the Chinese term for light-touch, hands-on medical therapy. This textbook for laymen or students of Chinese medicine explains the theory behind these very simple, elegant techniques. It also explains exactly how much pressure the hands should use, the most comfortable sitting position for the practitioner, and other details for mastering these techniques.
This book includes instruction on Forceless, Spontaneous Release technique (FSR), the technique used by the Parkinson's Treatment Team for treating the unhealed injuries of people with Parkinson's, as well as an introduction to light-touch craniosacral therapy and other light touch techniques.
The book Recovery from Parkinson's, available for free on this website, includes an introduction to Yin Tui Na and FSR, and enough information for the novice to get a sense about how to treat a friend with Parkinson's disease. Still, for people who want even more information about this ancient art, this book might be helpful.
The book includes more than fifty photographs showing hand positions for therapeutic support of various injured body areas.
The Parkinson's Recovery Project, a non-profit organization, is making this book available for free download. If you find this book to be helpful, please consider making a tax-deductible donation by clicking on the Donation link. Donations go towards keeping this website running and updated.
Free PDF edition: Yin Tui Na:Techniques for Treating Injuries of Parkinson's Disease or Any Dissociated Injury
To download these books, you must have Adobe Acrobat Reader.
To download Adobe Acrobat Reader, CLICK HERE.
Free PDF edition: Yin Tui Na:Techniques for Treating Injuries of Parkinson's Disease or Any Dissociated Injury
Click this link to download
Hard copy edition: Purchase Book
In Canada, Hard copy edition is available from Eastern Currents