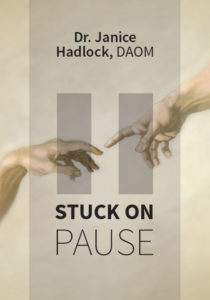 The first 22 chapters of the book Stuck on Pause are provided here for free download. Download pdf
In the Sept 2017 update, significant modifications have been made, starting at chapter 15. Even if you read the previous version of chapters 15-17, please note there is now new material.

The first four chapters share case studies and some new vocabulary for discussing this situation. The fifth chapter explains how a person can self-diagnose whether or not his Parkinson's has its roots in the electrical behaviors of near-death shock.
As mentioned in the blurb on the homepage, titled "Research update 2017," I have discovered that many people who have become stuck in partial recovery are manifesting symptoms of being stuck in the neurological mode of near-death shock.
I have figured out how to turn off this mode. I am now seeing patients recover more quickly…even those who were stuck for years in partial recovery.
The book is nearly finished, but the proof-reading process is slow and I am being careful. I will continue to put chapters on this page as they are readied.
The chapters on technique for turning off self-induced pause will be posted soon. They are written, but they need cleaning up so that they are as easy to understand as possible. (Please do not email me asking "How can I turn off self-induced pause?" Again, I will post these chapters as soon as possible.)
The book Recovery from Parkinson's is currently being re-written to reflect the new findings and to make the medical vocabulary consistent throughout all my books. Hopefully, both Stuck on Pause and Recovery from Parkinson's will be finished and released later this year.
The excerpts from Stuck on Pause by Dr. Janice Walton-Hadlock, DAOM, are copyrighted.